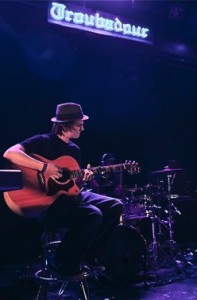 This is Alex!
Hailing from the San Francisco Bay Area, influenced by the sonic explorations of Jeff Beck, the restless creativity of Tom Waits and the dangerously funky rhythms of James Brown, Alex Kerckhoff has created a sound and musical attitude that is all his own. The young guitarist and songwriter released his debut album, "No More Rain", on Revolg Records in June 2012. Check it out HERE!
Alex started teaching himself guitar at the age of 13 and immediately fell in love with the instrument. His love for music lead to years of practicing which eventually brought him to USC's Thornton School of Music. At the university level, Alex was able to augment and expand upon his rock and roll roots by becoming immersed in all styles and aspects of music including, jazz, classical, flamenco, and country music.
Since graduating Alex has supported his creative endevours by teaching guitar lessons, playing live with local acts, recording sessions and touring (most notably with Swiss fusion artist, Eliana Burki).
Alex's career as a solo artist has only just begun! With plans of relentless performing and preparation for a follow up album already underway, the future is looking bright and funky for this young talent!